Establishment of Native American Center
The Native American Center was formally established on Indigenous Peoples' Day, October 11, 2021 through a Memorandum of Understanding between the All Faculty Association and Sonoma County Junior College District with the specific intention of providing academic support services to our Native American students.
The District created a Special Assignment for the Native American Center Coordinator identifying the following priorities:
1. Develop the Native American Center (NAC) program including vision, mission, and goals; the purpose of which is to support Native American student success through diverse Indigenous activities, academic tutoring, mentoring, and cultural development. The NAC program will also support faculty curriculum development efforts, encourage student academic success, and build collaborative relationships with Indigenous community partners.
2. Partner with faculty and staff members interested in developing or incorporating Native American curriculum.
3. Create events and workshops for students and the college community including Day Under the Oaks Native American Celebration and Indigenous Peoples' Day.
4. Facilitate professional development workshops and events aimed at broadening faculty and staff understanding of themes pertaining to Native American communities.
5. Work collaboratively with the academic counselor for the Native American Summer Bridge (NASB) program, including recommending budgetary priorities.
6. Support the faculty members tasked with the development of the Native American Studies major.
7. Upon request, collaborate with faculty members engaged in Native American-focused research and academic study.
8. Support NAC Research interns and/or Intercultural Center coaches in Native American-focused research projects.
9. Maintain partnerships with local tribal and Native community organizations.
10. Make occasional presentations to the college community.
Faculty Coordinator for the Native American Center (NAC)
The Native American Center is housed in the SR Intercultural Center with programs such as Umoja, APASS, Puente, Queer Resource Center, and Native American Summer Bridge. We envision that under the leadership of our coordinator, alongside the SR Intercultural Center and programs, the Native American Center will flourish and profoundly impact the Native students we serve and Santa Rosa Junior College as a whole.
Mary C. Churchill, Ph.D.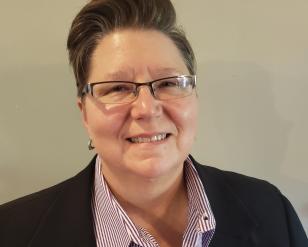 I began my instructional career at Santa Rosa Junior College in January 2013 as an associate faculty member in Humanities and Religious Studies and continue today teaching in that department.  I am also an instructor at Sonoma State University in the departments of Native American Studies, American Multicultural Studies, and Women's and Gender Studies.  
I earned masters and Ph.D. degrees in religious studies from the University of California, Santa Barbara, specializing in the study of American Indian cultural, religious, and spiritual traditions along with women and religion and religion in the United States.  I had the good fortune of being mentored by two Native American women professors over the years, Dr. Paula Gunn Allen (Laguna/Lakota) and Dr. Inés Talamantez (Mescalero Apache).  For more than 30 years, I have participated in American Indian and Indigenous initiatives on college campuses, including the University of Colorado at Boulder, University of Iowa, and Northern Arizona University, in addition to SRJC and SSU. 
My scholarship has appeared in several academic journals, including the American Indian Quarterly, the Journal of the American Academy of Religion, and the Journal of Feminist Studies in Religion, as well as in anthologies, including Reading Native American Women: Critical/Creative Representations, edited by Inés Hernández-Ávila (Nez Perce). I was also a postdoctoral fellow at the Radcliffe Institute for Advanced Study, Harvard University. 
I knew growing up that I had Cherokee Native heritage, but it was not something emphasized in my family. I remember many trips to Pacific Western Traders in Folsom, California, which started to give me a sense of American Indian people in my community.  It was not until I went to college at UC Berkeley that I started to become aware that I could get involved.  I sought out a Native professor on my campus, Dr. Paula Gunn Allen (Laguna/Lakota), who ended up becoming a life-long mentor and friend and who took me to American Indian events and introduced me to Native organizations and writers.
   
During graduate school, I was part of the campus American Indian Student Association as a graduate mentor for four years.  I assisted EOP staff in programming, including gatherings to open the school year, harvest dinners in the fall, American Indian Culture weeks in the spring, and lectures by Indigenous speakers. I mentored undergraduate students and originated and edited a journal of undergraduate Native writings called the Red Earth Journal. I also worked closely with a local Chumash elder, Pilulaw Khus, and conducted research for her in support of litigation concerning a Chumash burial site in a shopping center development. 
As a dissertation teaching fellow at Northern Arizona University in Flagstaff, I met with local Diné and Hopi cultural leaders about creating a program to bring Native community members to teach on campus. I also met with tribal historical preservation officers to facilitate campus-community connections. 
When I taught at the University of Colorado at Boulder, I was active for over a decade with our campus faculty and staff association called American Indian Advocacy.  We met regularly to address issues relevant to American Indian and Indigenous Peoples on campus, advocate for change, support the Oyate Indigenous Student Association, assist with the annual powwow, administer the White Antelope Scholarship Fund, plan the annual graduation ceremony, and coordinate with campus departments, including EOP, Summer Bridge, TRIO, and admissions and outreach.  I occupied leadership roles in the organization and served as a faculty advisor for Native student organizations.  I co-taught a course for American Indian first-year students as part of a retention program.  I received the campus Faculty Equity and Excellence Award for my work supporting American Indian and Indigenous students.
As a visiting assistant professor at the University of Iowa, I met weekly with the Native American Student Association to support Native students and their activities.  In particular, I taught a course that brought together Native American and non-Indian students in support of the annual powwow.  Students learned about the history, cultural practices, and protocols of powwows, raised funds, and served as volunteer powwow staff.  Together we created a powwow handbook to ensure that institutional knowledge would be passed on to future student leaders.  
At Sonoma State University as an adjunct professor, I have helped to create Native community on campus in collaboration with EOP, the HUB Cultural Center, and interested faculty and staff for the last several years.  I was a founding member of the Native and Indigenous Student Support Initiative, which sought to increase enrollment and retention of Native students on campus and facilitate Native-related programming on campus. Last year, I helped with offering our first annual Native Fest, which brought together Native community organizations and artists, campus departments, Native students, and the greater campus to celebrate our community and foster connections.  I also helped with the first annual Native and Indigenous graduation ceremony. I have assisted with Indigenous Peoples Day and Native American Heritage Month programming.  I have taught Summer Bridge for the last two summers as well.  I am continuing with these activities at Sonoma State, including helping to facilitate our inter-campus Indigenous reading group and community building with the Kashia Pomo Elementary School.  I have been called upon several times by the Federated Indians of Graton Rancheria Education Department to speak with tribal citizens about Sonoma State and to help facilitate their transition to campus.
Although this list does not capture all my lived experience across Native country, I hope it offers an overall sense of my engagement with American Indian communities, primarily on academic campuses, but also in relationship to higher educational institutions.  My experience is also supplemented with fieldwork and travel experiences in American Indian communities over the years, primarily in Oklahoma.  My scholarship has not been fieldwork based but informed by my experiences in American Indian rural, reservation, and urban communities.  
It is an honor to serve as the Native American Center Coordinator, and I look forward to working with Native American students, faculty, and staff to center American Indian culture and the academic needs of all students at Santa Rosa Junior College.

Mary C. Churchill, Ph.D.
mchurchill@santarosa.edu
(707) 521-7833
Associate Faculty
Humanities and Religion Department